How To Make Safe Drinking Water - How to Boil Water For Drinking
How to Boil Drinking Water
Two Methods:
When you don't have access to clean tap water, knowing how to boil water is a necessity. Before you purify any quantity of water, you should filter it if it looks cloudy. Then, water can easily be boiled over a stove or another heat source. If heat isn't an option, you can mix a small amount of a chemical solution into the water to cleanse it. Properly sterilized water is free of bacteria and other microscopic organisms, making it safe to drink.
Steps
Heating and Cooling the Water
Filter the water before boiling it if it is cloudy.

Cloudy water is caused by dirt and other debris you don't want to drink. Let the water rest until the sediment settles at the bottom. Then, secure a clean cloth over a jar or another container with a rubber band. Pour the water onto the cloth, letting it drip through and into the container. When you've poured all the water through, remove the cloth carefully to avoid reintroducing sediment to the water.

You can also use a paper towel or coffee filter if you don't have a clean cloth available.

Bring the water to a boil over high heat on a stove.

Pour the water into a pot safe for use on a stovetop if it isn't already in one. Then, turn up the heat and wait until the water begins to bubble ferociously. Bubbles should rapidly rise from the bottom of the pot without pause.

If you're familiar with cooking techniques, this is called a rolling boil. The water should bubble consistently before you set your timer.
The water can take a while to bubble, especially if you're heating large quantities. Expect it to take at least 5 or 10 minutes and reach a temperature of at least 212 °F (100 °C).
If your stove isn't operational, you will need another heat source, such as a campfire or portable stove.

Boil the water for 1-3 minutes, depending on your altitude.

If you are in an area 5,000 ft (1.5 km) or more above sea level, boil the water for a full 3 minutes. At altitudes lower than this, boil the water for at least 1 full minute. Boil it for longer if you are unsure about the altitude in your area.

You can find elevation information on a topographical map. Maps are available online or at your local government's land survey office.

Cool the water for 30 minutes before using it.Hot water takes a while to cool, so plan on boiling it before you need it. Test the water with a kitchen thermometer to make sure it won't scald you. You can also hold your fingers close to the water to see if you feel any residual heat.

Improve the water's taste by adding salt to it.

Boiled water often tastes flat, similar to old soda, due to the loss of air. You can improve it by mixing in about 1 teaspoon (7 g) of salt per US gal (0.95 L) of water. Stir the salt thoroughly in the water and add more if the taste still isn't desirable.

Another way to improve the water is to aerate it again. Get another clean container and pour the water back and forth between the containers a few times.

Store excess water in a clean, covered container.

Any water you boil can be stored in case of emergencies. You don't need plastic water bottles to do this. Mason jars, plastic jugs, and other resealable containers work well. Keep the container sealed to avoid contamination.

Boil and store water in advance! Then you will have a water supply no matter what circumstances you face.
Using Chemical Alternatives
Disinfect water with chlorine bleach if you can't boil it.

You will need a regular, unscented liquid bleach and a sterilized eye dropper. Read the label to find out how much sodium hypochlorite is in the mixture. For bleach consisting of 6% sodium hypochlorite, add 8 drops per 1 US gal (3.8 L). For bleach consisting of 8.25% sodium hypochlorite, reduce the amount of drops to 6 per 1 US gal (3.8 L).

The water should have a slight chlorine smell before you drink it. If it doesn't, repeat the treatment.
If the chlorine taste is too strong, pour the water into another container to aerate it, then let it rest for a few hours.

Mix granular calcium hypochlorite into the water for a stronger purifier.

Granular calcium hypochlorite is very strong, so wear eye goggles and work in a well-ventilated area! Mix about 1 teaspoon (7 g) of calcium hypochlorite into 2 US gal (7.6 L) of water until it dissolves. Then, stir about US gal (1.9 L) of the mixture into 12.5 US gal (47 L) of water.

If the water tastes too strongly of chlorine, pour it into another container and let it stand for a few hours.
Granular calcium hypochlorite is used in pools, so you can find it wherever pool supplies are sold.

Use household iodine if you don't have chlorine available.

Use a sterilized eye dropper to add about 5 drops of iodine to each US gal (1.9 L) of water you want to purify. Add 5 extra drops if the water is cloudy. Stir the water thoroughly, then leave it alone for at least 30 minutes before drinking it.

You can find iodine in the pharmacy section at most general stores. Look for household iodine or tincture of iodine.
Iodine may be included in commercial first-aid kits. Consider keeping a bottle on hand if your kit doesn't have one already.

Purchase water disinfection tablets for an easier way to clean water.

Water disinfection tablets are by far the easiest purifier to use, but you may not already have them on hand. The tablets also come in a variety of strengths, so read the manufacturer's instructions for handling information. Then, simply drop a tablet into the specified amount of water and let it dissolve.

Tablets are available at many pharmacies and sporting good stores, but they can also be bought online.
You can get chlorine, iodine, and various other types of tablets. Using them means you don't have to measure out any liquid chemicals.
Community Q&A
Ask a Question
200 characters left
Include your email address to get a message when this question is answered.
Boiling water is useful if you get caught in a natural disaster or have to deal with a broken pipe in your area.
Listen to your local government when they issue boil advisories. These warnings are for your own safety. Avoid drinking tap water if you aren't sure it is safe.
If you collect water from outside of your home, avoid water that is stagnant or has debris floating in it. Also, avoid water that looks dark or smells bad.
Bottled water is always safe to drink if you have no other options. Consider bottling your boiled water so you have some available when you need it.
Video: How to PURIFY tap water at home/Boiling Method
How to Boil Drinking Water images
2019 year - How to Boil Drinking Water pictures
How to Boil Drinking Water forecast photo
How to Boil Drinking Water pics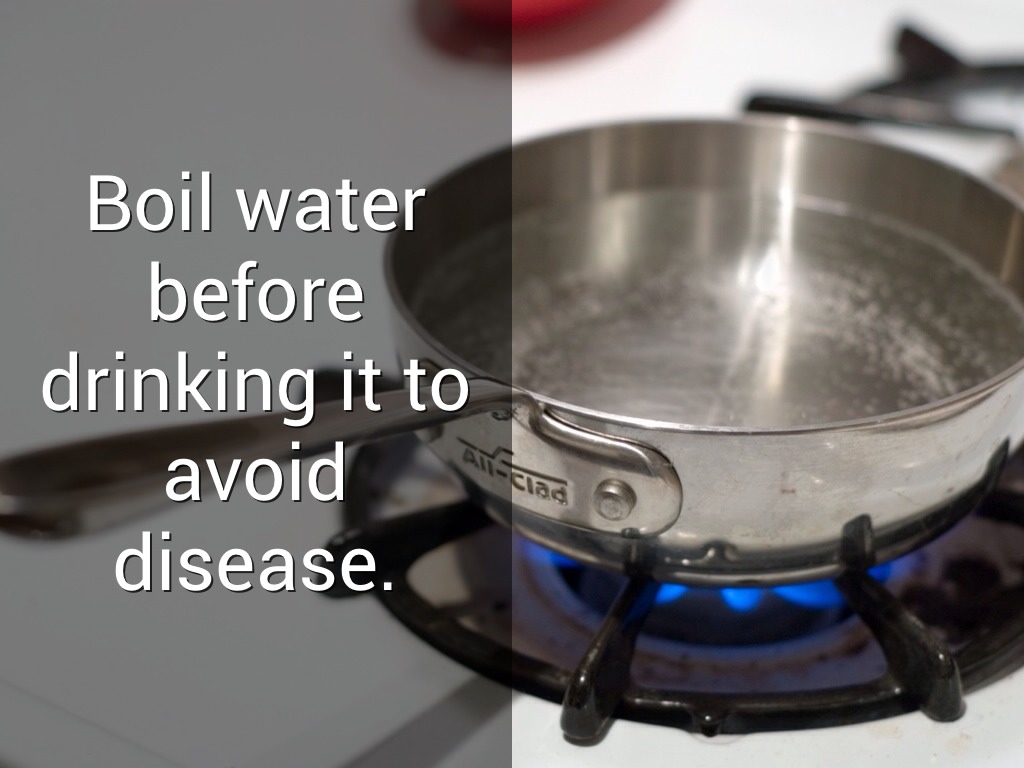 How to Boil Drinking Water new pics
foto How to Boil Drinking Water
Watch How to Boil Drinking Water video
Forum on this topic: How to Boil Drinking Water, how-to-boil-drinking-water/ , how-to-boil-drinking-water/
Related News
8 Habits of Women in Healthy, HappyRelationships
Mepenzolate
2019 Hairstyles, Hair Trends Hair Color Ideas
Kristen Stewart Stars in Chanel's Gabrielle Campaign
Bed Bath Beyond Giveaway
18 Winter Outfits With a Faux Fur Coat
How to Order Dunkin Donuts Coffee
Cheddar Garlic Biscuits
The best shampoo for coloured hair that'll prevent fade
50 Classy Beard Styles For Men – Sophisticated Facial Hair Ideas
Sarah Jessica Parker ha messo la pulce allorecchio per Sex and the City 3
Key AW13 Coats: The Double-Breasted Overcoat Duffle
Jeff Flake demands FBI investigation into Brett Kavanaugh sexual assault claims
Why Drug Addiction Relapse Is Not Just Common, But Likely
How to Enchant a Man
Date: 15.12.2018, 10:54 / Views: 31362
---